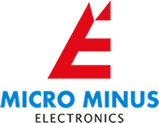 Established in the year 2004, we – Micro Minus Electronics are engaged in manufacturing and supplying electroplating rectifiers, electroplating controlers, panel instruments, electro-plating instruments, electrical panels.

Our units are well integrated with state-of-the-art-machinery and advanced technologies. Other machines, we even have equipment related to testing and checking. All the activities from production, design to packaging and transport, everything is strictly watched out by a team of experts. All the functions are directed by Mr. Nimesh Shah who is the owner of our firm.
With thought provoking directions of senior personnel to a supportive team, we tend to remain in strong position to meet with all the client's demands.
PRODUCT PROFILE
We are a trusted name in manufacturing electroplating rectifiers and controlers. Our range includes followings :
Panel Instruments
Electro-plating Instruments
Rectifiers
Electrical Panel
TEAM AND MANAGEMENT
Our teammates are identified by their capability, potential, personality, education and several years of experience. With us, we have a pool of talented workforce going synonymous with the sense of responsibility and commitment. Amongst our teammates, we have engineers specialized in electronics, technicians, quality control analysts, sales and marketing representatives and other skilled workmen.
CUSTOMIZATION
With advanced manufacturing facilities, our major intention lies in meeting with all the demands of the client. We custom manufacture all our products as per our client's specifications. There are various parameters on the basis of which we customize our range such as :


Size
Design
Dimensions
Weight Capacity